Mauricio Gomez – Director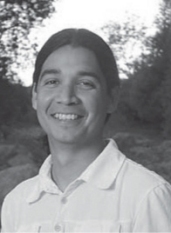 Mauricio has been working on local habitat restoration projects for the past ten years in the Santa Barbara and Ventura region.  He enjoys managing restoration projects which build partnerships amongst diverse groups and teaching people the value of restoring the environment.  Mauricio is a Southern California native and has been living in the Santa Barbara area for the past 15 years.  He moved to Santa Barbara to study at UCSB and earned a Bachelor of Science in Aquatic Biology.  Prior to being the Director of South Coast Habitat Restoration, Mauricio managed the Watershed Restoration Program of the Community Environmental Council, worked at UCSB as a staff researcher with the restoration ecology group, and the Marine Science Institute.  In his free time, Mauricio enjoys spending time outdoors hiking, running and playing with his wife, son and dog.
Alyssa joined South Coast Habitat Restoration in 2017 as a Project Manager. Prior to joining SCHR, Alyssa worked as a GIS Analyst for the UC Davis Center for Watershed Sciences, where she was involved with a variety of projects including drought-impact analyses and modeling of the historic Sacramento-San Joaquin Delta, and had the opportunity to spend time in the field "working" in many of Northern California's rivers. She also worked at the California Freshwater Fish Laboratory, where she studied the impacts of hydropower and water diversions on Chinook salmon in Butte Creek, CA. Alyssa received her master's in Environmental Science and Management from the Bren School at UCSB, and holds a B.S. in Environmental Science and Management and a minor in Environmental Policy from UC Davis. In her free time, Alyssa enjoys backpacking, cooking, and reading.
Debra McCarty – Grants Administrator
Debra is a proud resident of Carpinteria, California. Her non-profit experience includes creating and teaching science curriculum for a non-profit in San Diego County, engaging and volunteering with Diabetes Advocacy Organizations throughout California, planning and executing the California Avocado Festival as the Executive Officer and creating sustainable fundraising programs as the Development Director of the Carpinteria Education Foundation. McCarty has a bachelor's degree in Biology, focusing on Marine Biology from San Diego State University. As the Grant Administrator for South Coast Habitat Restoration, she will focus on organizing and management of the many grant opportunities available to SCHR.
McCarty says "I'm looking forward to supporting the environmental efforts of the South Coast Habitat Restoration mission statement, by working to increase their opportunities."
Debra is a parent of two boys in the CUSD school system; she spends her time supporting them in their school activities and sports. Her and her husband can also be found hiking the Santa Barbara back country, running in Carpinteria or surfing the waves of the Pacific.