Mauricio Gomez – Director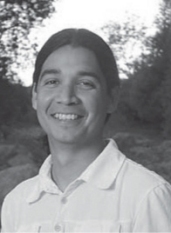 Mauricio has been working on local habitat restoration projects for the past ten years in the Santa Barbara and Ventura region.  He enjoys managing restoration projects which build partnerships amongst diverse groups and teaching people the value of restoring the environment.  Mauricio is a Southern California native and has been living in the Santa Barbara area for the past 15 years.  He moved to Santa Barbara to study at UCSB and earned a Bachelor of Science in Aquatic Biology.  Prior to being the Director of South Coast Habitat Restoration, Mauricio managed the Watershed Restoration Program of the Community Environmental Council, worked at UCSB as a staff researcher with the restoration ecology group, and the Marine Science Institute.  In his free time, Mauricio enjoys spending time outdoors hiking, running and playing with his wife, son and dog.
Shannon Boyle – UCSB Coastal Fund Watershed Restoration Assistant
Shannon is a first year Master's student at the Bren School of Environmental Science & Management, with an intended specialization of Conservation Planning and Coastal Marine Resource Management. Shannon received her Bachelor's degree from McGill University in Montreal, Quebec in Environmental Biology with minors in Applied Ecology and Wildlife Biology. Her undergraduate thesis focused on determining the impacts on fish community structure in lakes in the Northeastern USA that experience significant desiccation of the littoral zone as a result of hydroelectric dam operation. After graduating from McGill, Shannon worked with the NPS on removing invasive lake trout from Yellowstone Lake in Yellowstone National Park. Since January of 2015 she has been working with the Smithsonian Institution on investigating patterns of coral reef biodiversity across the Pacific using standardized sampling methods and novel molecular techniques. In her free time she loves traveling, hiking, cooking and doing yoga.
Nathan Burroughs – UCSB Coastal Fund Watershed Restoration Assistant
Nathan is a first year Master's student at the Bren School of Environmental Science and Management. At the Bren School, he is specializing in Conservation Planning and Coastal Marine Resources Management, as he hopes to use his degree to preserve the natural world in the face of human encroachment. He received his undergraduate degree from the University of California, Los Angeles in Biology with a minor Conservation Biology. As an undergraduate he researched the relationship between nest shape and sexual dichromatism among the New World blackbirds (family Icteridae). Nathan loves natural open-space and is fascinated by the wildland-urban interface. His life goal is to return ocean-going steelhead trout to his childhood creek in Northern California.